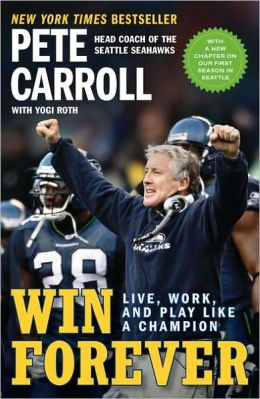 I just read
Win Forever: Live, Work, and Play Like a Champion by football coach Pete Carroll
. What did I think? That it's a must-read for any engineering leader. Even in my 14th year of team management, I still learned new tips from Carroll's work. Concepts like communicating your philosophy, focusing on work vs. the outcome, and staying positive are all crucial both in sports and in software.
It was refreshing to be reminded that in football, as well as in software, you are your own competition. Staying focused on your work and your customers -- rather than those of your competition -- is what will make or break your company. Pete Carroll also talks about the tightening that takes place when people are uncertain about their abilities or goals:
The only competition that matters is the one that takes place within yourself. It isn't about external factors. Tim Gallwey and his Inner Game approach to performance has had a huge impact on how I look at the challenges of coaching. Specifically, Gallwey wrote about how human beings tend to enter a state of doubt when faced with the unknown or uncertainty. When that occurs, he wrote, we instinctively "overtighten." Physically, when we doubt our ability, we will tend to overtighten our muscles. Mentally, we fear failure and can become emotional and distracted.
I have seen similar tightening when people feel micro-managed or put down by their leadership. Believing in your team and making sure they have the support is something you can't do enough of. Positive energy generally gets positive results.
One of the key quotes in the book is about forcing performance vs creating opportunity for the players:
What if my job as a coach isn't so much to force or coerce performance as it is to create situations where players develop the confidence to set their talents free and pursue their potential to its full extent? What if my job as a coach is really to prove to these kids how good they already are, how good they could possibly become, and that they are truly capable of high-level performance?
This is great advice -- and I wonder how it would work if applied in a corporate engineering setting.
One of the advantages of this approach is inherent in the context of pro sports: highly competitive games with a readily available supply of players that greatly outstripping the number of spots on the field, even the roster. For instance, all the people who treated football as "just a job" dropped out way before NFL.
The dynamics are slightly different in the software industry; there is a shortage of qualified Software Engineers, so someone skilled -- even if not necessarily passionate -- is still likely to make the cut.
In summary, Carrol's book offers some great "plays" that you can adapt to your life, but don't expect a complete playbook.
-mb
PS: If you liked this post you should check out the
Three Pillars of Engineering Management
and
Emotional Intelligence on Software Teams